"…a remarkable new singer"
– Recording Magazine
"The Best Pipes at SXSW"
– Austin Chronicle
"brings activism back the the Arts, ala Nina Simone"
– Ebony
"…voice is so sensuous and sultry…with inspirational themes."
– Washington Post
"…storytelling lyrics and soulful, soaring vocals."
– Billboard Magazine
Music is my Activism, Human is my Brand.
– Maya Azucena
"Armed with a powerfully compelling voice, Azucena just could be the most impressive of the current hip-hop/soul/r&b diva crop…"
-Village Voice
"Powerful vocals and broad range command attention…"
– Performing Songwriter Magazine
Follow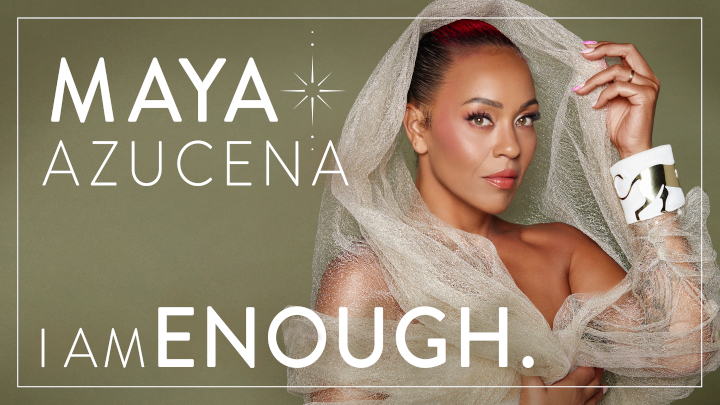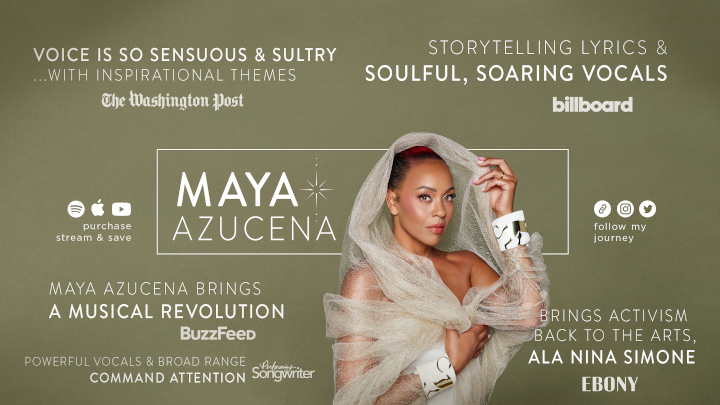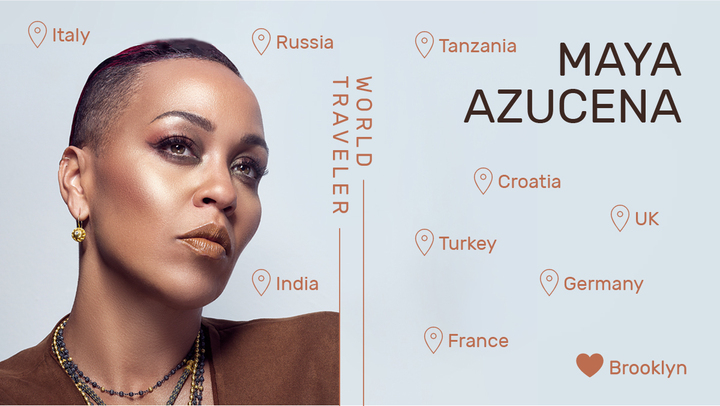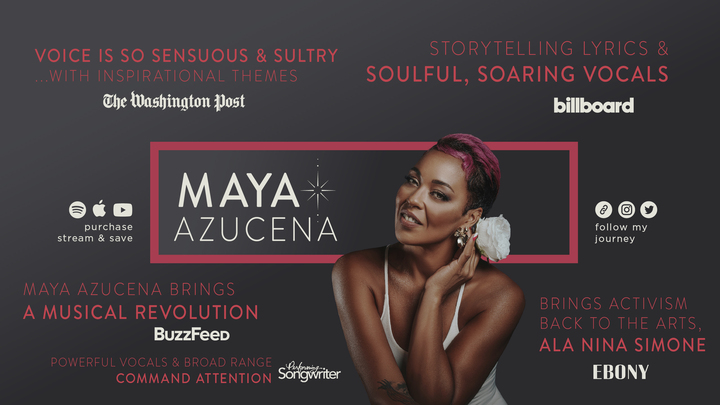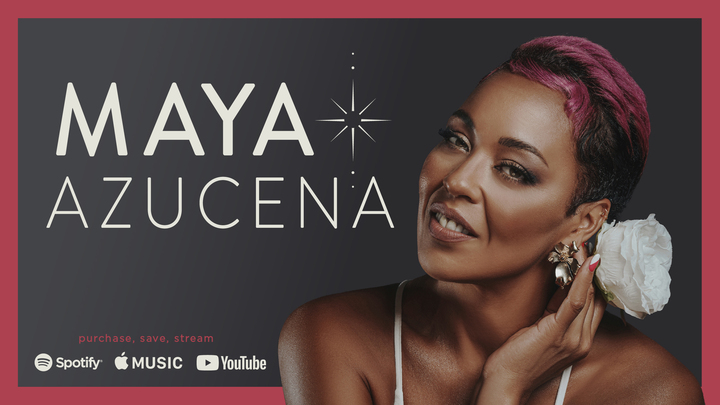 ---
MAYA AZUCENA BIOGRAPHY
Maya Azucena's dynamic 4-octave vocal range explores the passionate grit of Blues, Gospel and Rock, while easily entering the warmth and storytelling of the Singer-Songwriter. Regardless of genre, all of Maya's performances seem to come from a deep place in her heart, affecting the audience in an emotional way.
Among several awards for her music and humanitarian outreach, Azucena contributed her voice to a feature performance with Stephen Marley, which earned a Grammy for Best Reggae Album of the Year, and can be heard on her latest 2022 Stephen Marley collaboration, "Celebrating Nina: a Reggae Tribute to Nina Simone," on Ghetto Youths record label.
Maya is a critically acclaimed Brooklyn-native, avid touring artist and songwriter. She has 3 full-length solo albums under her belt, plus numerous digital singles and countless recordings, as both writer and featured performer. Azucena collaborates extensively on stage and recordings with both national and international stars. Her collaborations have included diverse artists such as rock band Brass Against, guitar legend Vernon Reid (Living Colour), jazz greats Marcus Miller, Jason Miles, soulful house producers DJ Spinna, DJ Logic, alt-pop group Fitz and the Tantrums, and Croatian super-star Gibonni.
Performing 40+ countries throughout her career, recent concerts include representing America at the International Expo in Dubai 2022; a 17-country tour of Europe 2019; over a dozen Humanitarian tours to countries such as Qatar, Philippines, El Salvador, Myanmar, and Tanzania, as Cultural Ambassador for U.S. State Department; Hollywood Bowl (Los Angeles), Essence Fest in New Orleans, Blue Note New York, plus countries like Turkey, Russia, India, Brazil, Croatia, and South Africa.
Maya is well known for her humanitarian outlook and projects around The Globe which include special focus on Women's & Youth Empowerment and Domestic/Sexual Violence. Based on a personal commitment to help the world through her talent, most of Azucena's songs are anthems that lend a voice to self-worth, empowerment, overcoming obstacles, and stepping into our "fearless" selves.
Maya Azucena is excited to soon present "I Am Enough," a 6-song EP recording produced by Timo Ellis, whose "Prince-like" musical diversity brings out the soul of her songwriting and voice. Having worked with the likes of Mark Ronson, Yoko Ono, Cibo Matto and Joan As Policewoman, he incorporates elements of Gospel, Blues and Rock, to manifest Maya's anthems of empowered survival.